The Plastic Odyssey Village is hitting the roads of France to meet with local residents and stakeholders. The objective? To travel from Dunkirk to Marseille, stopping in Rouen, Le Havre, Brest, Concarneau and Bordeaux. Each stop is punctuated by awareness sessions and eclectic events 100% local: concerts, screenings, radio shows, performances, exhibitions. There is something for all tastes.
A plastic wasteland
After a first stop to raise awareness about plastic pollution in Dunkerque, our blue box took the road, towards Rouen! A real journey for this container which had not yet left the North of France, and a real test for the storage of our furniture: more than 250 km, and everything is in order once arrived. With this success, the container joined an unusual place, populated with other boxes, with variable colors, sizes, and shapes, which cohabit on former waste ground: The Lucien wasteland! ! Located on the site of an old train station, the wasteland is now a cultural and committed place that wishes to revitalize the left bank of Rouen and to encourage social connection.
A new city means a new configuration: a night opening, from 5 to 10 pm on Wednesday 8 and Thursday 9 September. A different population than the one that walks along the quays in Dunkerque on Sundays: people come to the wasteland after work or after a day of classes, to have a drink, play a game of pétanque, or chat with their friends. The addition of a plastic pollution awareness village to this festive setting is a new challenge for the Plastic Odyssey team.
A spectacular program
To join us in the awakening of this happy public to plastic pollution, the team gathered local actors: la roulotte scarabée proposed animations to the youngest, including cutting, pasting, and assembling plastic waste. These workshops were an opportunity to put into practice the reuse and recycling of waste, illustrated by the Plastic Odyssey recycling Puzzle. Visitors were then invited to enter quietly the container, where a "question box" was waiting for them. An intimate and privileged moment, where they could discuss their experiences with plastic waste.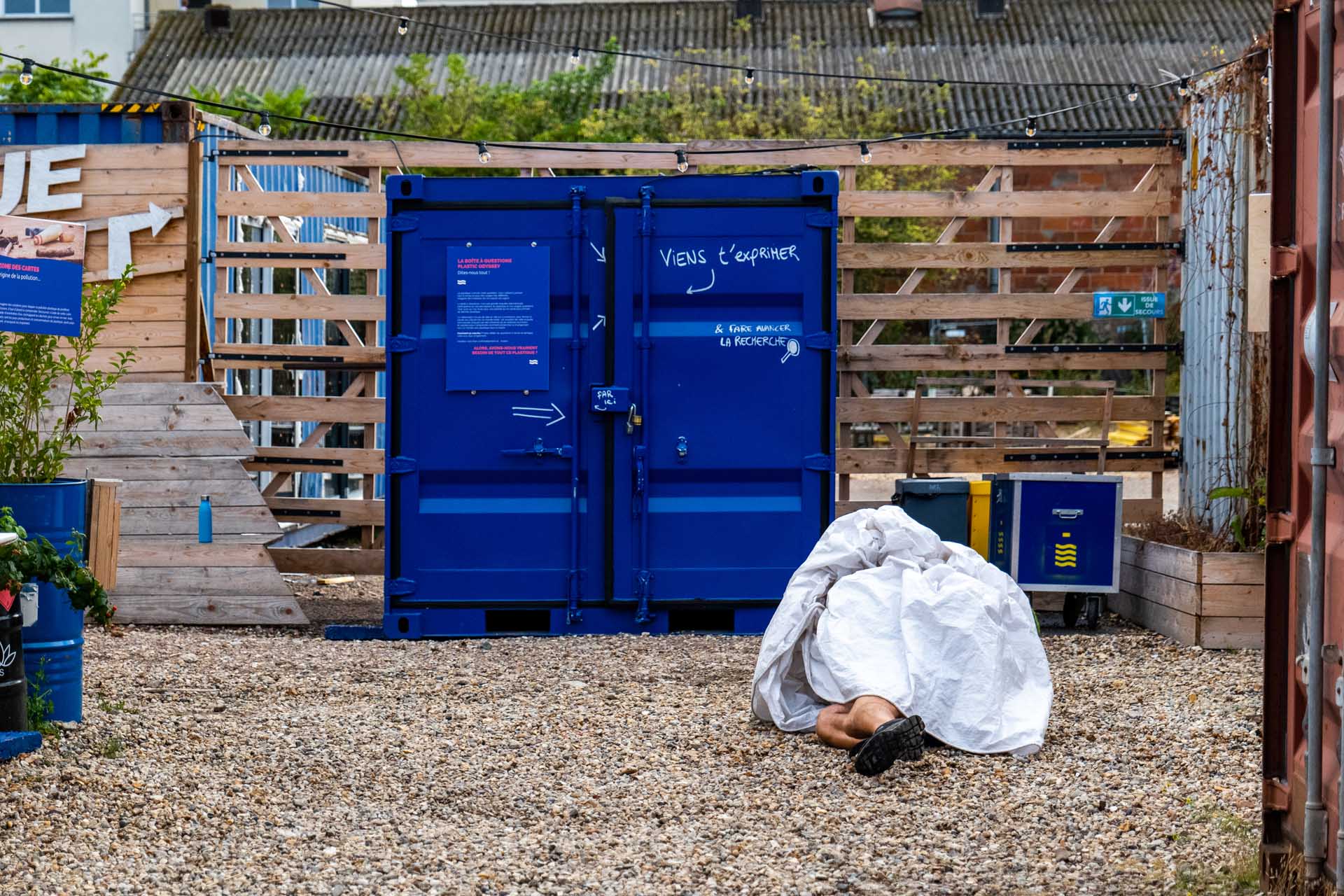 Later in the evening, as the party was in full swing, a screening of the film "Wave of Change" took place and led to a lively discussion. The story of a beautiful adventure, sober and useful, allows a whole community to engage behind a message of hope.
The next evening, at sunset, the wasteland was covered with plastic waste. Dancers of the C&C Company wandered between the containers, on the gravel, attracting their audience close to the stage. Named "The conquest of the useless", this show turns in circles and in derision the unreasoned consumerism, between aesthetic and pathetic.
The result of this second stage?
300 visitors, 95 decibels, 200 plastic moves, and a lot of smiles. Rehabilitating a wasteland, recycling plastic waste, same fight? Giving life to what has been forgotten, put aside.
Thanks to our partners for this successful event, as well as to our dear volunteers who helped us relentlessly: Agathe and Jessica! The journey continues, let's go up the Seine to its estuary: Le Havre, here we are!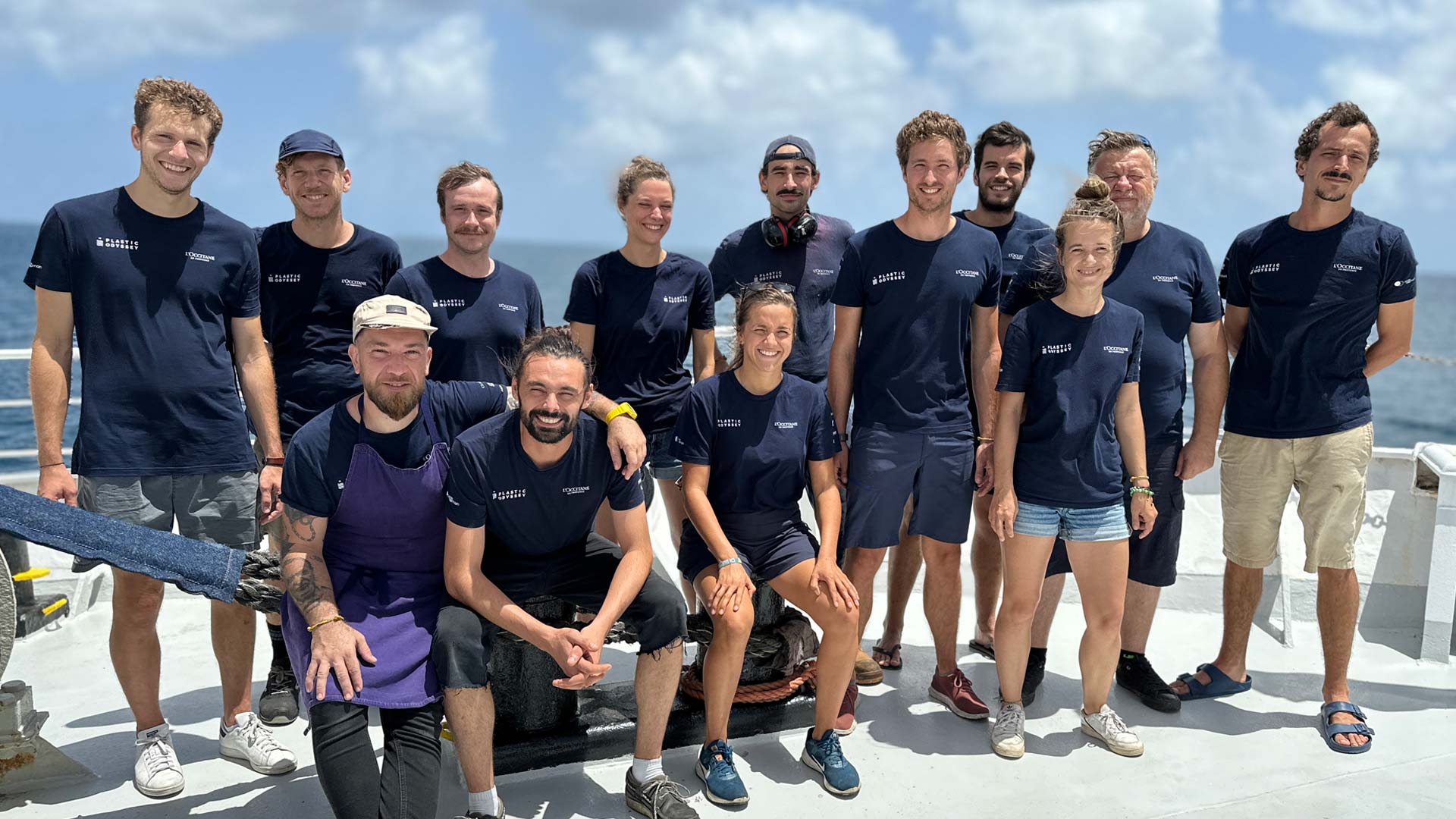 From September 2023 onwards, the Plastic Odyssey expedition will be calling in several Central and South American countries: Dominican Republic, Costa...