Plan B, C, D or Z
Dunkirk, July 2021. Just as we were getting ready to start our expedition around the world to reduce plastic pollution, the news broke: the Plastic Odyssey vessel had to stay in the shipyard to undergo further repairs before being able to sail to Marseille. The story could have ended there. We could have unpacked our backpacks, bought a train ticket to Marseille, returned home and waited for the ship to be ready for departure. But fate decided otherwise.
"We will go from Dunkerque to Marseille … by land!"
What if the expedition was not only about the means of transportation to join the dots on the map? In a few days, we put everything back on the table: the means of transport, the route, the action mode… If the vessel can't take us there right away, we'll get there by road! With a certain amount of stress and a lot of adrenaline, we decided to go from Dunkirk to Marseille by land along the coast, to mobilize citizens around plastic pollution. Several thousand miles to cover. And as many people to meet, local initiatives to discover, inhabitants to sensitize, young children to board on the adventure, field actions to carry out… and impact to have to reverse the course of plastic pollution.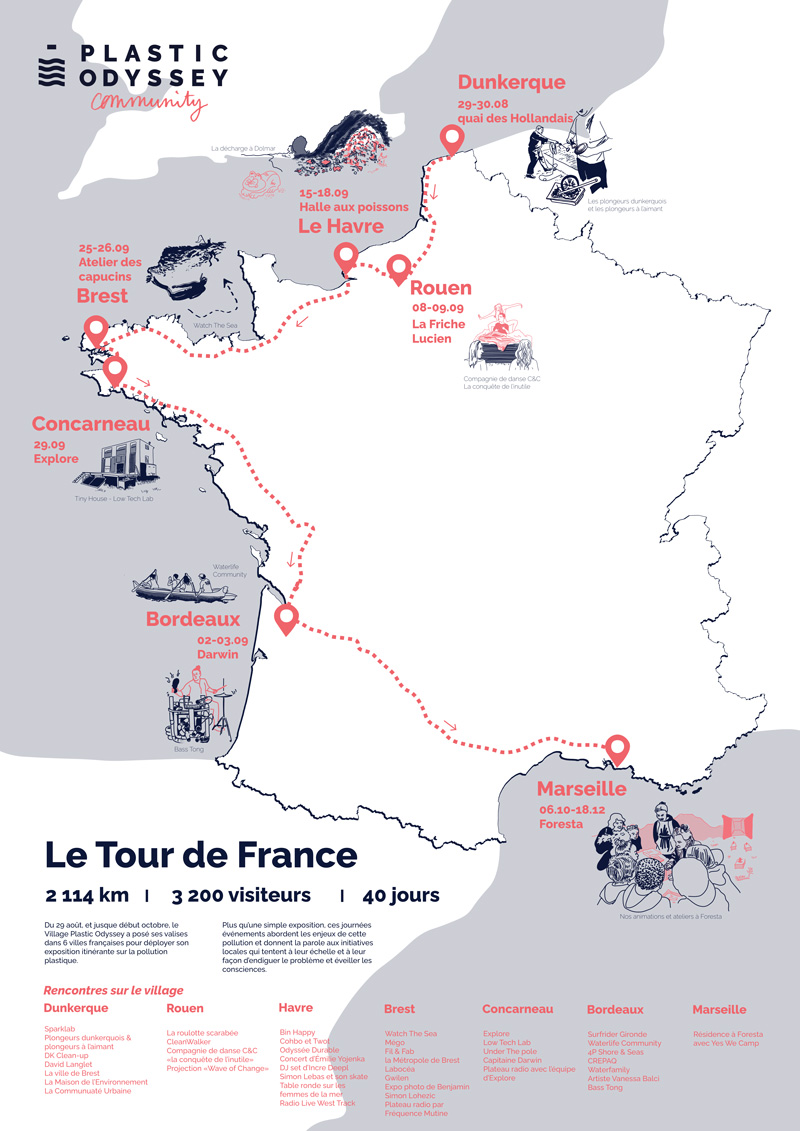 The adventure within the Adventure
To tell you this epic story in detail, we would have liked to tell you: "After long discussions and a certain time of reflection, we decided to …". But things turned out differently.
Once we discovered the postponement of the expedition's departure, we had to act quickly. Very quickly. We had to unload the maritime container that was on the upper deck of the vessel in Dunkirk, and that contained the exhibition material. Rethink all our steps, our organization, our program. Find a van. And hit the road.
This is the story of a small maritime container, which left the deck of its ship to travel by land and make a Tour de France to raise awareness about plastic pollution. In this blue box, a little too heavy, we put an exhibition on plastic pollution, a market of plastic alternatives, a recycling demonstration workshop, as well as a device allowing to visit our vessel in construction. Our container will have traveled 1313,579 miles, stopped in 6 cities in France, and attracted over 3,200 visitors. But above all, it was filled with many stories, and allowed us to host, during 40 days, debates, workshops, screenings, concerts, conferences, radio shows… around a subject that motivates us: how to reduce plastic pollution in the ocean.
Marseille, extended stop
Foresta is a natural space in the northern districts of Marseille, which is experimenting with a new collective management mode, with the intention that this space becomes a public park, a meeting place between different social groups and a place available for the creation of outdoor activities. It was only by chance that we landed on these lands and had the honor of participating in the animation of the place before this beautiful project of resilience was closed.
Before landing at Foresta, our team had already reached 300 young people through our educational workshops for schools. We took advantage of this extended residency to continue to welcome young people and to test new programs and animations with various publics and ages.
How can we best educate these future eco-citizens? How to include them in the reflections on our lifestyles of today and tomorrow? How to make them aware of their power? And above all, how to give them the desire to think and dream about change? Quite a challenge! We might as well tell you that our toolbox is filling up.
The adventure has just begun!
And so the first journey of our blue box comes to an end. Our expedition has only just begun. While the ship undergoes its final repairs, we will reopen the container in Marseille, rework its contents, add new awareness modules, elements that allow us to propose ideas, and finally reassemble it, to make it even more impactful.
Just as no great athlete became a champion without injury, this project learns from each impact to get stronger. That's the creative process, and maybe that's what exploration is all about?
… . Here, in video, is a retrospective of this first itinerary with a thousand twists and turns.
Thank you
A special thanks to Loan, our outstanding mediaman, who allowed us to capture these precious moments, and who is now sailing towards new projects.
The steps of the Tour de France
Check out the stories and photos from each stage of the Plastic Odyssey's Tour de France.
Reliving the steps