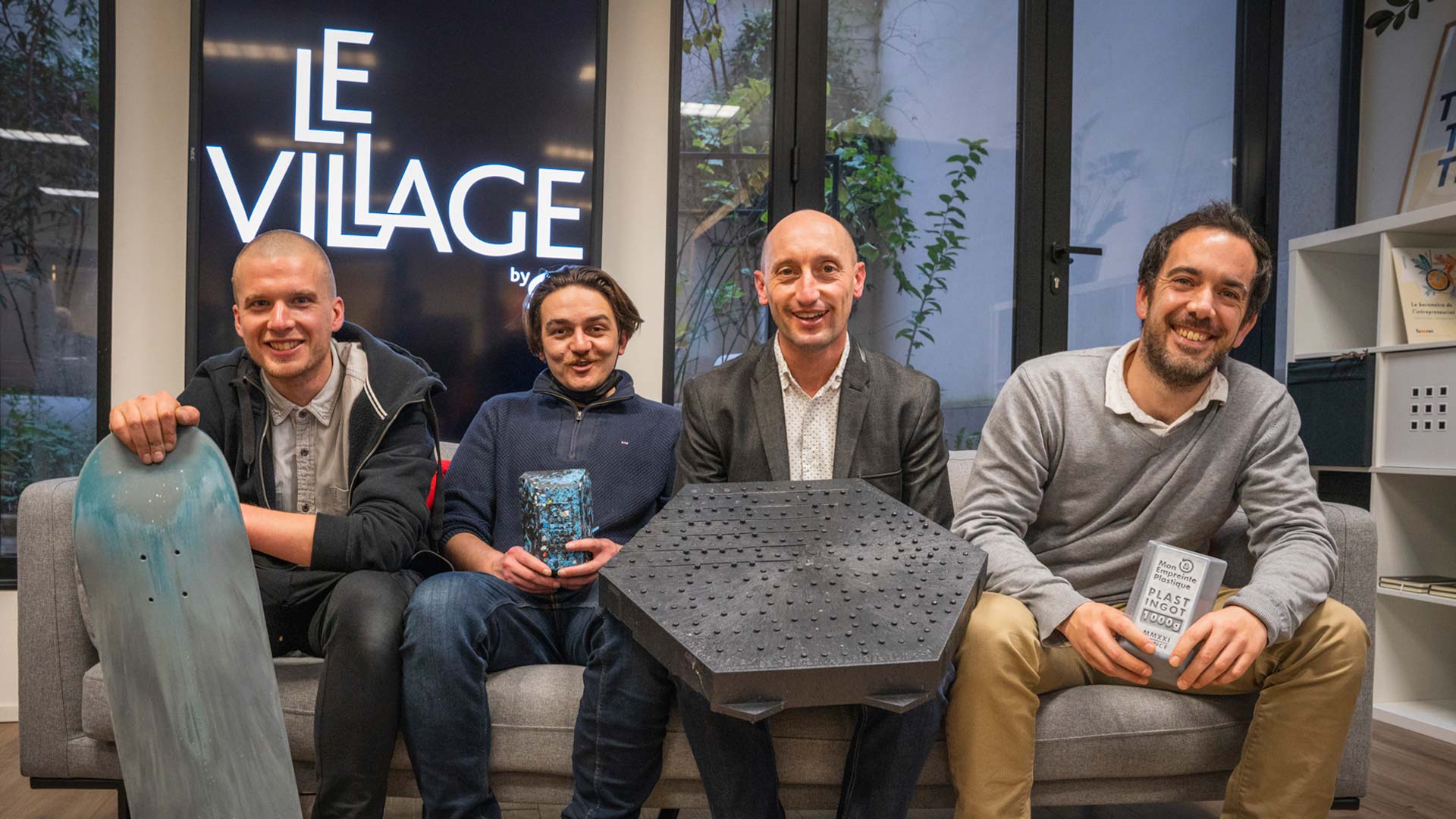 Our first event of the year took place on February 16 at the Village by CA. Organized with our partner Crédit Agricole, we unveiled at the event the solutions developed by the winners of the first edition of the OnBoard Laboratory, which took place in Dunkirk last summer. This event was also an opportunity to organize a round table on plastic waste management in Africa and Asia, two areas where Plastic Odyssey focuses its action.
Presentation of accelerated solutions from the 1st edition, in Dunkirk
We hosted last summer the first laureates of our OnBoard laboratory program on our onboard workshop in Dunkirk Designed as a floating laboratory, our vessel hosts three technical work spaces of more than 200 m2 including, among others, a grinder, a centrifuge, a pyrolysis unit, a compressor and a 3D printer.
For a week, they prototyped their solutions for recycling plastic waste. Read their portraits here. 6 months later, we met them again at the Village by CA in Paris.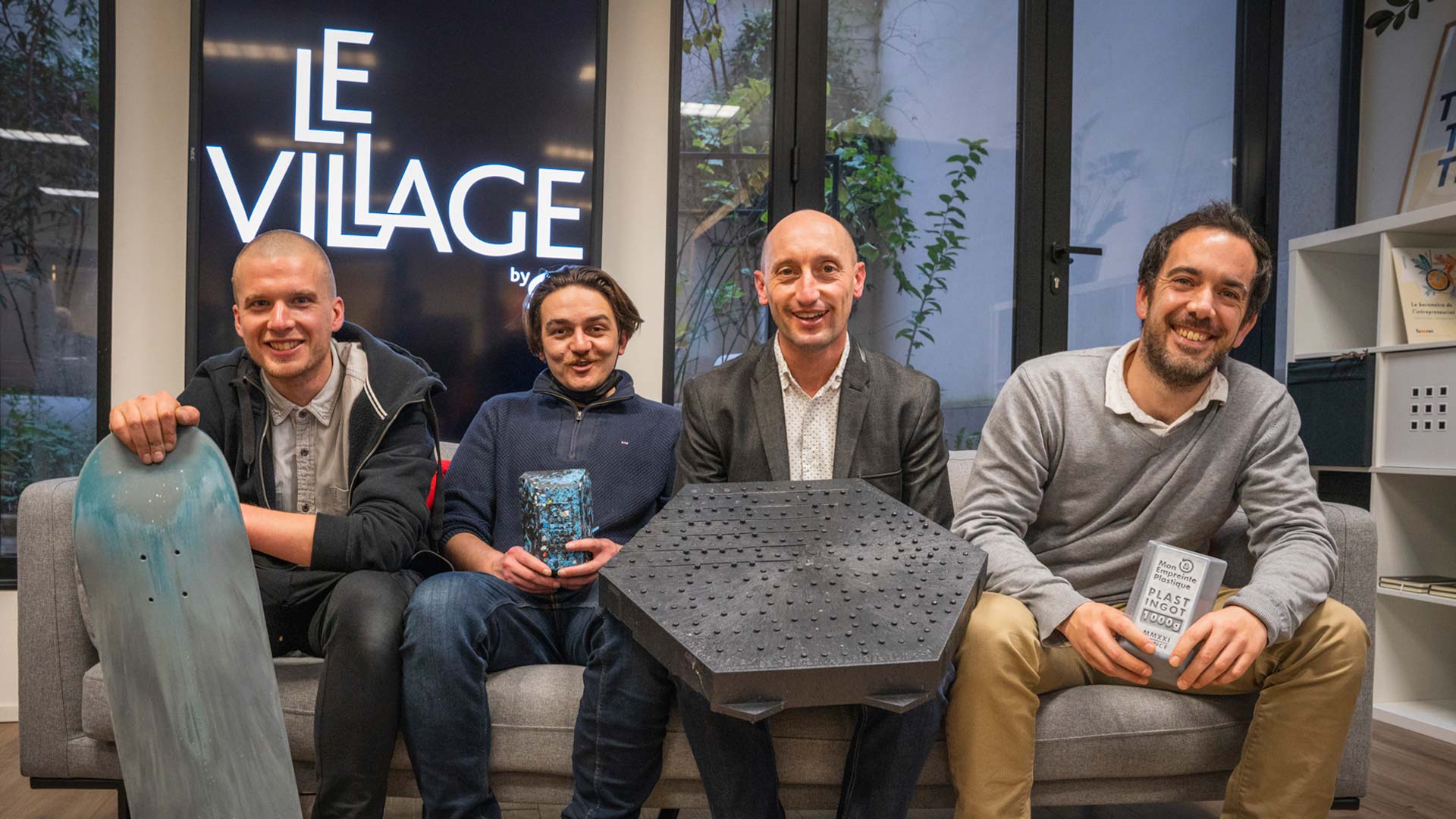 Recycled plastic tiles
Sébastien Molas was the first to present Purple Alternative Surface, large slabs of recycled plastic. Simple to install and very durable, these innovative plastic tiles can reduce the environmental impact of road repair and construction. They also permit stormwater filtration.
Recycling in the oyster farming industry
The OnBoard Laboratory is above all about beautiful encounters and the collaboration between Purple Alternative Surface and Charlotte Rhône from the regional committee of shellfish farming in Charente Maritime is a beautiful symbol of it! Charlotte's issue was to give a second life to plastic waste from the oyster farming industry. During this first edition, a test was carried out using oyster bags to make Purple Alternative Surface's plastic tile and was a success. The next step will take place in April with the realization of a first test parking lot in Charente Maritime.
Skateboards made of recycled plastic
Recycled plastic is fantastic, especially when it allows you to do sports. Jason Knight launched the project to make skateboards from shredded plastic waste. on a project to make skateboards from shredded plastic waste. In addition to being environmentally friendly and sturdy, Jason's boards are very aesthetically pleasing and are very reasonably priced.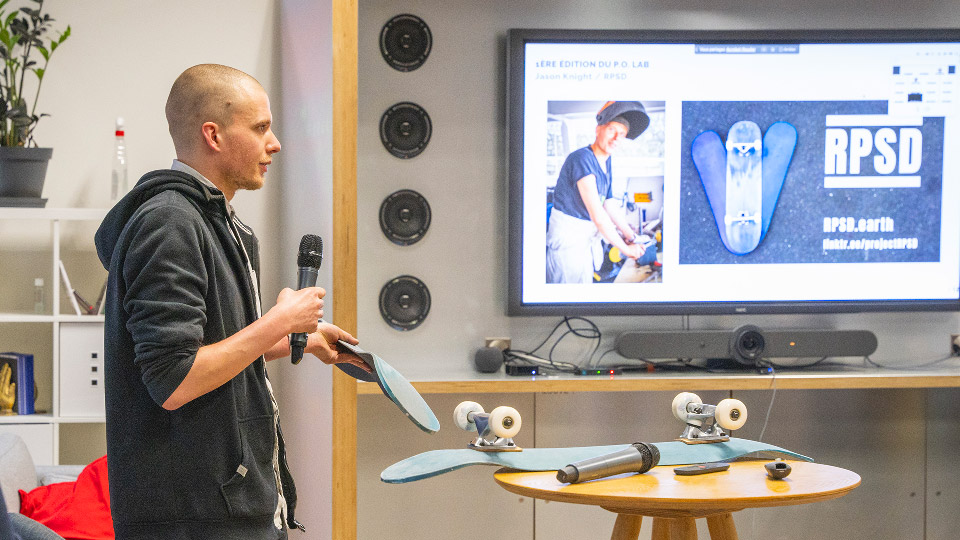 A bike created from household waste
Daovone Sribouavong, who had joined the program to develop a bicycle frame built from household waste had to put her project on hold after being appointed regional circular economy coordinator within the Brittany region. She nevertheless participated in the meeting to present the support schemes for innovative circular economy projects.
The recycled plastic ingots of Alban and David
Alban Desbarax and David Le Gall came to present "my plastic footprint", a collaborative platform that allows everyone to buy back their plastic footprint materialized by a recycled plastic ingot.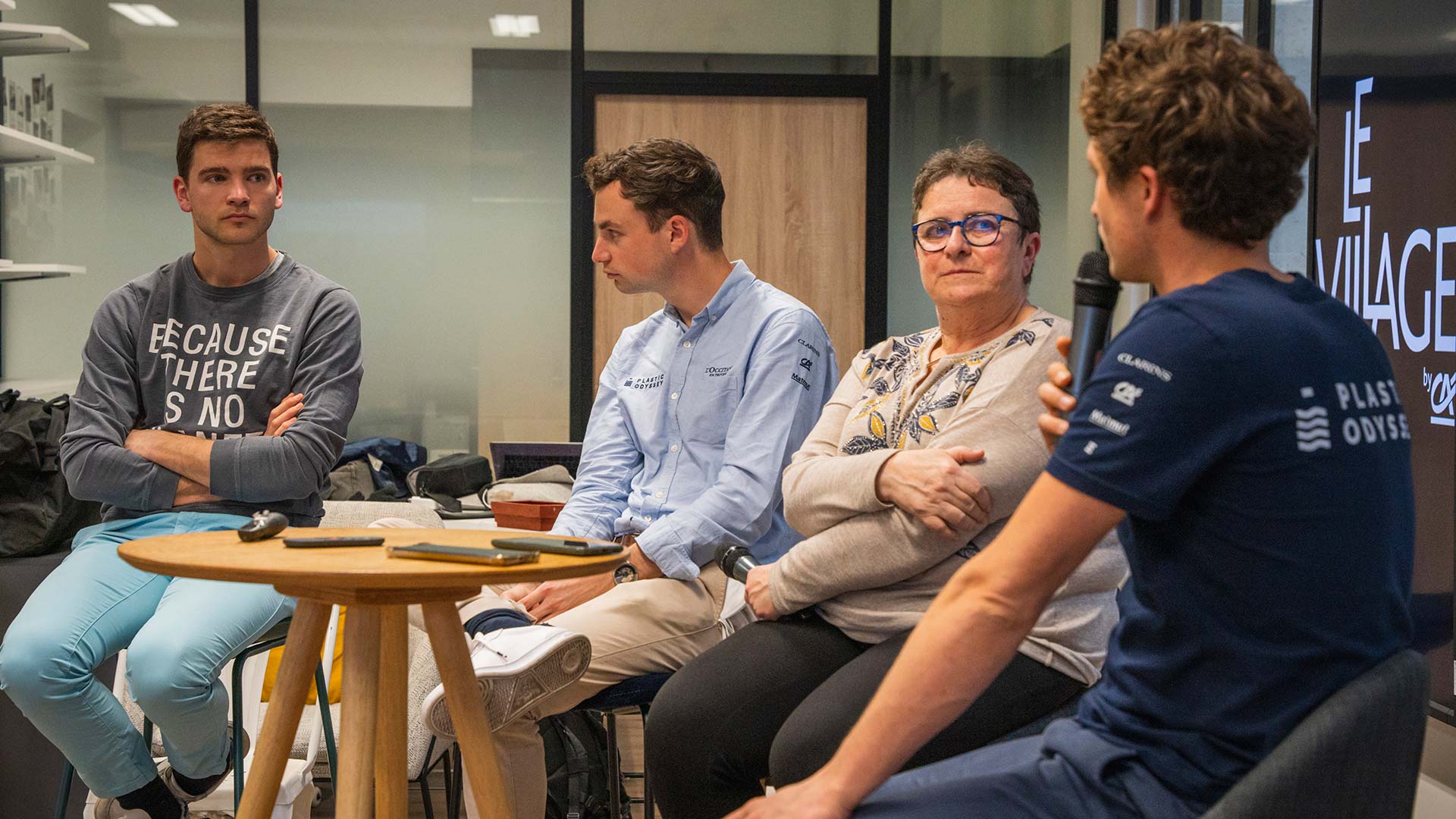 Round table : Plastic pollution & recycling solutions in Africa and Asia
The next editions of the OnBoard Laboratory will take place internationally, starting at the end of the year in the Mediterranean basin and on the African continent. A change of scenery and stakes, which we introduced with a round-table discussion with 4 panelists. Matthieu Witvoet, Pascale Martel Naquin, Said Benhamid and Jean-Baptiste Grassin were Simon Bernard's guests to share with the public an inventory of plastic pollution in Africa and Asia.
The objective: explore sustainable solutions that can help prevent the deluge of plastic. The stakes are high. Ninety percent of marine plastic in the world comes from coastal cities in South America, Africa and Asia.
The economy of plastic recycling
While in Europe, where plastic waste is above all considered a source of problems, the round table speakers emphasized that elsewhere in the world, plastic collection and recovery sustain whole economies. Citing his own country as an example, Saïd Benhamida – co-founder of the startup Mika, which collects and recycles plastics along the Moroccan coast – estimates that 30,000 to 40,000 waste pickers make a living from recycling in Morocco. So many people cannot be left aside. « You have to create value, develop an additional revenue stream for communities, to hold their interest in recycling. »
The solutions must also be adapted to the challenges of each country. Pascale Martel-Naquin, former director of the Francophone Center for Partnership Research on Sanitation, Waste and the Environment, knows Haiti very well from having worked there. "In Port-au-Prince, a lot of plastic waste is burned in the open air. A pyrolysis model would allow production of hydrocarbons to supply thermal power stations. But this technique also competes directly with recycling."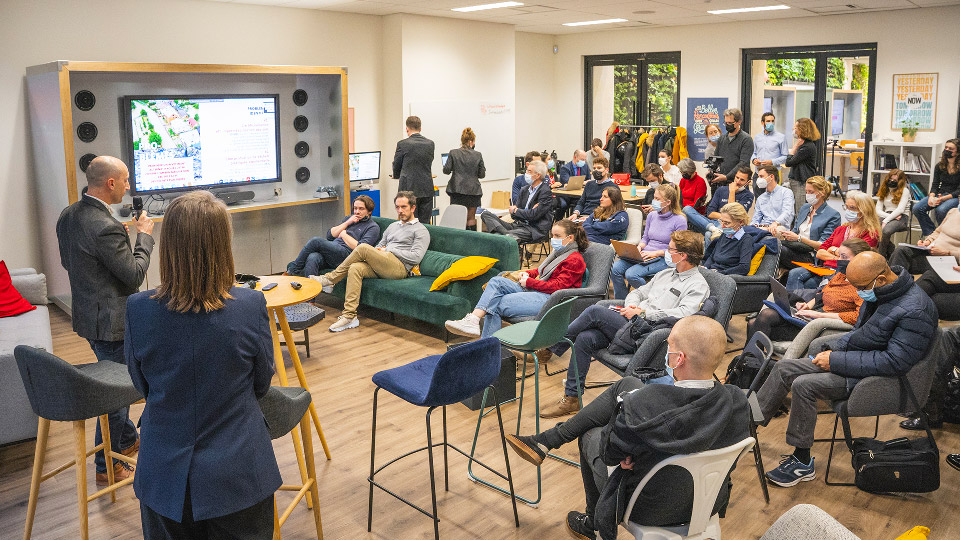 Consumption of plastic is also the central issue. Matthieu Witvoet, eco-adventurer and member of Circul'R, an initiative supporting transition to a circular economy, is fighting for a systemic change to reduce plastic pollution. « We have to get to the root of the problem. We cannot simply replace plastic products with equivalents that create other environmental problems. Paper bags, for example, are based on the exploitation of forests on the other side of the world, contributing to deforestation. » « We have to avoid so-called false solutions » underscored Simon Bernard, co-founder of Plastic Odyssey. « Five billion tons of plastic are in nature today. Even if we stop production, we have to manage the current supply. »
Just back from Guinea, West Africa, Jean-Baptiste Grassin, engineer and member of Plastic Odyssey, met with Mariam Keita, an entrepreneur who wants to create a socially and economically viable recycling business from plastic waste recovery. Recovered plastic is melted, molded and transformed into recycled paver stones. « At this stage, her initiative faces obstacles scaling up, which is the only way to keep her factory going. Plastic Odyssey's objective is to provide machines and tools to enhance her manufacturing process, and support her sales channels. » Guinea will be one of Plastic Odyssey's expedition stopover countries.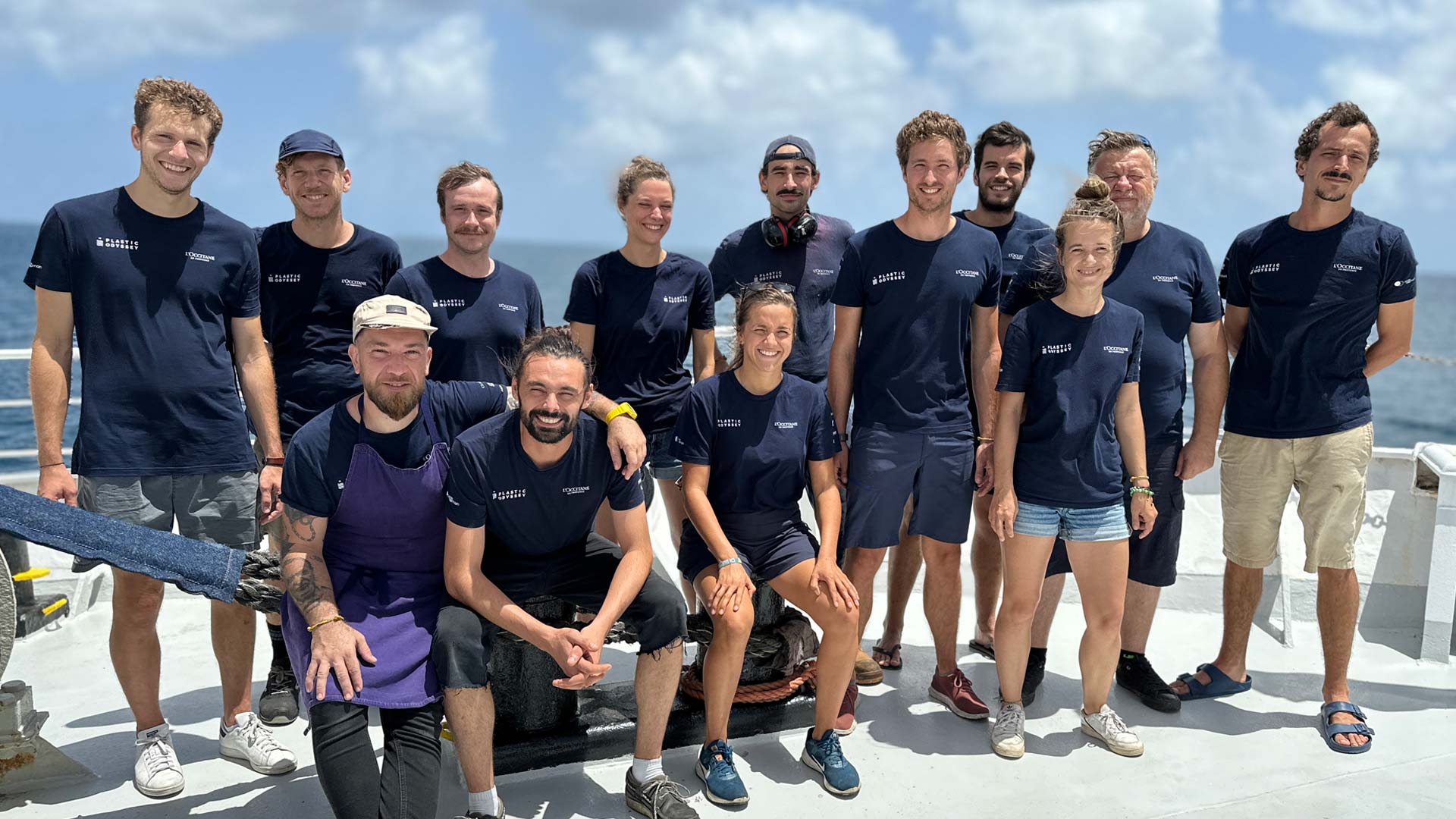 From September 2023 onwards, the Plastic Odyssey expedition will be calling in several Central and South American countries: Dominican Republic, Costa...